About
Erin Hunter, Biological Illustrator of Botanical-Entomological Art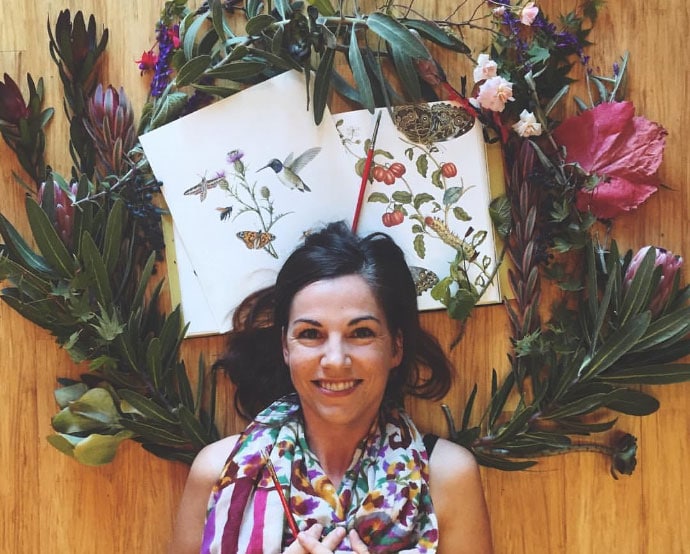 About Erin
Erin E. Hunter is a fine artist and biological illustrator of botanical art who focuses on plant-pollinator relationships. Working from her Monterey Bay studio, Erin creates paintings and technical illustrations inspired by the natural world and the interactions between plants, insects, and animals. Erin's California wildflower art and insect drawings highlight the impact that individual species have on the wider ecosystem, bringing attention to the significance of tiny honeybees, dazzling hummingbirds, delicate thistles, native plants, and other ecological treasures.
In addition to painting and exhibiting, Erin participates in speaking engagements on natural history, observational drawing and painting, and her artistic process.
Erin's Story
When Erin Hunter was nine, her great-great aunt Alice gave her a copy of the Reader's Digest Guide to North American Wildlife. Fascinated by the detailed color illustrations of flowers and insects and animals, Erin read all 559 pages. Her first ventures into science and illustration started with that book, where she checked off the plants and wildlife of her own backyard and drew birds in the margins.
Trading Monterey County's vineyards and Pacific waves for almond trees and sunflower fields, Erin eventually headed inland and earned a B.A. in graphic design with a minor in Spanish at California State University, Chico.
After graduation and two years as a full-time graphic designer, she packed two suitcases and flew to New York City. Settling in Brooklyn, Erin worked assorted day jobs and freelance design projects to pay for night classes at the Art Students' League and frequent trips to the Metropolitan Museum of Art and Brooklyn Botanic Garden. Between subway rides and adventures, Erin spent time simply sitting on park benches, observing the action around her and sketching the characters of the city.
Two snowy winters and a cross-country road trip later, Erin returned to the California coast and the Monarch butterflies, wild irises, and scurrying lizards that captivated her as a child. She enrolled in the prestigious science illustration program at University of California, Santa Cruz, and completed internships with leading scientific and consumer organizations including the Smithsonian, California Academy of Sciences, and Sally Ride Science. Today, Erin specializes in biological illustration, with a focus on entomological and botanical illustration, and her fine art paintings spotlight plant-pollinator relationships.
Erin has completed three artist-in-residence programs with the National Parks Service, sketching wildflowers at the North Rim of Grand Canyon National Park (2015), Hot Springs National Park (2017), and Guadalupe Mountains National Park (2018). She's participated in solo exhibitions and group shows at the San Francisco Botanical Garden (2022), American Association for the Advancement of Science (2018), Denver Botanic Gardens (2014), and elsewhere. She has also illustrated four children's books, taught botanical illustration and field sketching at UC Santa Cruz, and led numerous drawing and painting workshops.
When she's not painting or working at the computer, she can be found puttering in her backyard garden or hiking in coastal forests. Her dog-eared copy of the Reader's Digest Guide to North American Wildlife sits prominently on her desk.
Media Features and Public Speaking